Johnny's been good!
24.04. 2014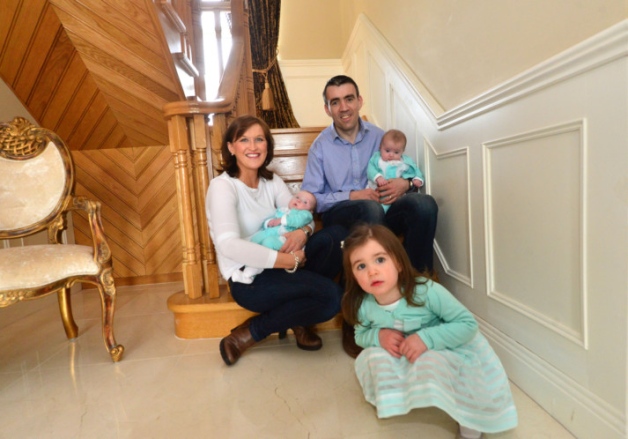 Retired Kildare football Johnny Doyle, his wife Siobhan and his daughters Sarah and twins Orla and Aimee at home recently.


by Ruth Chambers
Finding superlatives to describe Johnny Doyle, the player and the man, is a difficult task. A Kildare legend who is idolised by young and by old.
On April 5 he announced his retirement from inter-county football and the tributes flowed. Try finding a man or a woman who has something bad to say about the Allenwood ace and you'll be hard pressed.
He seemed to have time for everyone. With the dust settled on his announcement and a myriad of interviews done, Doyle still had, and no doubt still has, time for more.
"Ah, soon enough no one will be ringing," he said. That's just how Johnny Doyle is. He's benevolent. He won't let anyone down. Doyle was always the go to man after another dejecting defeat for Kildare. He'd never say no.
To be an inter county footballer you have to be selfish according to Johnny and perhaps family life at times suffered but selfish is not an adjective you'd ever use to describe Doyle. Absolutely not.
Football is everything to him. It always has been and always will be. Defeats ate him up; played on his mind for days and even weeks afterwards. He used to want to be just left alone to mull it all over, to critique his own performance, to pick holes in his team mates' performances.
Life changed though and while every defeat tormented him as much as the last, he couldn't retreat anymore.
"I remember last year when Dublin gave us a trimming in the Leinster Championship, and I don't even like saying this, I would have been depressed after matches for a couple of days. I didn't want anyone to talk to me. I'd wonder how you'd go out and produce such rubbish football after all the training. Anyway I remember coming in after that match and Sarah (his oldest daughter) was sitting on a rug in the front room and she didn't give a shite about what was after happening. She just wanted me to play with her and entertain her. So yeah, having kids does change you. I was lucky I had the window of opportunity I had but there comes a time you just have to close it and my time had come," admitted Doyle.
It was his wife Siobhan that urged him to give it one more go this year and after taking a break following the birth of his twin girls in December, he returned to the fold. It wasn't the same though. The faces had changed and he missed the men he soldiered with for so long. Dermot Earley had departed the previous year and so too had Ronan Sweeney. The training ground and the dressing room were anomalous places.
"It was a changing dressing room. It was a factor, there's no doubt about that. When I came back, particularly this year, and especially because I wasn't back at the start with the rest of them, I felt it. You had no Roli, no Dermot, Damien (Hendy) had moved in to the selector role and my relationship with him wasn't at the same level as it was because he can't be the boss and the boy. It took me a while to feel part of it again. Those friendships are important. You'd pick up the phone after a match and talk to one of the boys who might make you feel a bit better about yourself. You'd definitely feel better after having a chat with the likes of Dermot or Roli and I wouldn't have the same relationship with the other lads but I'm sure it would have built over time," said Johnny.
Those other lads, the new kids on the block, were a threat too. Players like Darroch Mulhall, Brophy and Dowling grew up regarding Johnny Doyle with blind adoration and now, here they were, potentially, relegating their idol to the substitutes bench.
"In my head I was good enough to be on the team. In my head this minute, retired or not, I still feel that I'm good enough. Maybe that's a blind loyalty to myself. I knew I was going to have to fight hard for a place because the full forward line is where I was probably in the frame for. There's tough competition. To get in you have to fight and work hard, put in the hours away from training and get myself in a position to fight and to be honest I couldn't do that. That was the thing, I couldn't spend the hours kicking frees. I know there were times I probably got the nod because I was the free taker. I might not have been playing well but I got the benefit of the doubt.
"You do have to be selfish with your time, be driven and if I wasn't I was going to lose that battle. When I couldn't push to the level that was needed there was no point. I'm an all or nothing kind of person."
It was 100 per cent or nothing with him. No surprise there. He owes Kildare nothing. For the 14 years, since making his debut against Louth, Johnny gave all he had to the white jersey. They were good times, he said. Simpler times. In one way he'd love to be starting it all again and maybe do some things differently but in another way he's glad to have it all behind him.
"I'd love to be 20 years of age again! As the saying goes if you had a old head on young shoulders I wouldn't have made the same mistakes. The opportunities that are there for young fellas now, maybe I'd educate myself a bit better and go through the college system. I did a bit but I put football ahead of all of that. I love playing football, I loved being involved and I loved being a young lad with nothing else to do in the evening only go watch the Allenwood juniors but now you just don't have the time.
"It's tough on young lads coming through now though. There's an awful lot of pressure on them. You have to give an awful lot more now away from the field compared to when I started out. I served my time under Micko, who was known for his gruesome training sessions but it was nothing out of the blue to stop in Mulrennan's for a pint on your way home from training! You weren't doing anything wrong and you weren't going in looking over your shoulder to see who was there. After a league match you'd go in to Coffey's or you might go down to The Eyre Powell, as it was then, to get a bit of grub. You'd go back up and stay too long in Coffey's and the craic was good but you'd be back training Tuesday night and Micko would run the guts out of you. It was enjoyable, there was a great social side to it but you'd never do that now. If you heard of a young lad going for a few pints you'd be asking him, 'what are you doing'?
"The other big side of it is, and it's a big issue, you're living in the social media era. You didn't have that when I started. If you wanted to know how you played you waited to see what Tommy (Callaghan) said in the Leader! Normally Tommy wouldn't be too hard on ya! Now there's so much going on on social media that if a ball hops wrong for you you're branded as being cowardly, you're not up to the pace or you're too old. Young lads are feeding off that and that puts extra pressure on players. I don't get involved in that sort of thing, I'm not on Twitter and I have a Facebook account because they were all talking about it at the time! I could go three or four months without checking it and the last time I went in I forgot the password three or four times!
Some lads have it in their pocket the whole time and they're reading it the whole time and it brings pressure. For some lads it's like water off a duck's back but other lads are more sensitive to it.
"I enjoyed my time. At 20 years of age I probably came at the peak of Kildare football and we haven't got back to it. We came close in the latter years but to be involved back then was phenomenal, it was like living the dream. I went from sitting in the stands and bringing me flag and jersey to Croke Park as an 18 or 19 year old and then all of a sudden I was sitting in the dressing room. It was pinch yourself time and you definitely learned your trade in a good stable," he remarked.
In his first year in the white he won a Leinster title when the Lillies beat Dublin after a replay at headquarters but the years thereafter were lean. He captained Kildare to a Division 2 league title and won a few O'Byrne Cups. In 2010, while coming through the back door, Kildare were so close to making an All Ireland final but Down spoiled that party. According to Doyle that was Kildare's best chance but he's not convinced that collectively Kildare have the ability to believe they are good enough to reach the summit.
"To win anything you need a bit of luck and I felt we didn't have that. Now there were games we did get a bit of luck but a couple of big calls went against us but the big thing was probably a lack of belief. We wouldn't ever have had huge success at underage and success breeds success. We stood at the finish line and didn't cross it in time. It probably comes down to a mentality that's within Kildare GAA, it's in the psyche. We're nearly apologising for aiming high. If things were going well, instead of sticking out the chest and saying we are as good as anyone else, we didn't kick on and show people what we were capable of. I've played Railway Cup and for Ireland and these lads that you think are superstars are very ordinary, humble fellas and there's as good as them in Kildare. Sometimes I think we're slow to get that in to our heads. I think it's probably a Kildare GAA thing as a whole, it's at club level, at county board level. Why not raise the crossbar as high as you can and not apologise for that.
"Half the team might have been very strong mentally but maybe one or two weren't in that position and that could be the difference. It's very hard to monitor that and if it was down to sports psychology then every team would have it right. Maybe tradition plays it's part because you don't grow up with a winning mentality. I can't give one reason why we didn't win an All Ireland, you need a lot of things stacked in your favour but we didn't get there," he explained.
Of all the manager's Doyle has played under, he says Kieran McGeeney deserved success the most. The Armagh man left an indelible mark on Doyle. He never encountered a manager like him and never will again.
"I probably learned most from him. I know for a fact there were players on the panel that didn't have the same relationship with him as a I did. His honesty was the big thing for me. You knew where you stood with him at all times. He gave it harder to me than most because he expected me to sell his message even though sometimes it didn't suit me to because maybe it wasn't where I saw myself but he was so honest and what you saw is what you got. His loyalty towards Kildare was second to none. I trained hard and I always had the attitude that no matter what I was asked to do I'd go and do it the best I could but his level of professionalism, and what he expected, was unreal. We thought we trained hard before he came but he brought it to a new level. One of the big disappointments for me during his time was that we didn't bring him the success he deserved."
Leinster and All Ireland titles eluded Kildare during McGeeney's tenure but the Mullaghbawn man made the Lilies in to one of the most formidable back door teams in the country. Another provincial title would have meant the world to Doyle but it wasn't to be. Presently a Leinster title is looking well beyond most teams bar one and maybe this time it has nothing to do with belief if Dublin's recent performance against Cork in the Division 1 semi final is anything to go by.
"In Kildare you'd be beaten in Leinster and go on the qualifier road and you'd meet people and they'd tell you you need to concentrate on Leinster. In my head I'd be saying, we fucking are concentrating on Leinster but we were just beaten. You can't concentrate on Leinster when you're not in it. We pushed as hard every year to win a Leinster title. In '08 Wicklow beat us, in 2010 we played reasonably well down in Navan but were beaten. The stronger counties are getting stronger and the weaker are getting weaker and trying to bridge the gap is difficult. The two teams relegated from Division 1 were both Leinster teams and Dublin seem to be leading Leinster by a country mile and even the country by a country mile. You'd wonder where you'd start even trying to overcome them. Every paper in the country was talking about how good Dublin are and asking if they are unbeatable and of course that gets in to fellas heads. That's the power of the mind," admitted the 37-year-old.
Kildare success will always be paramount for Doyle. He's a die hard Lillywhite and that will never change but now his focus can finally shift back to his club. Back to where it all started.
The club versus county argument is a divisive one. So many times Allenwood have needed Johnny Doyle and he wasn't there. That ate him up too. Once his involvement with the county ended though, his club had all his attention and all his unnerving commitment but the transition could, at times, be very vexatious too.
"I couldn't give Allenwood my all. I felt guilty about that all the time. I remember at one stage when I was captain in Johnny Crofton's last year, Allenwood were really struggling and we were getting ready for a league semi final against Donegal. I said to Johnny that I have to play and he told me I couldn't. In fairness the club have never ever put pressure on me. All the managers, Paul Earley, Ray O'Sullivan, Sean Dunne, Mike Fogarty, Sos (Dowling), PJ Cummins, they were all there and none of them every laid a guilt trip on me. I would be so grateful for that but I've stood on the line and seeing Allenwood beat by a point and I'd be saying to myself: 'fuck, if only I came on and kicked a few frees'. That's the downside of inter county football. I always had it in my head that as soon as Kildare were finished I would give Allenwood my all. I give my club as much respect as I give my county. The standard I set for myself playing for Kildare is the same as the standard I set for myself playing for Allenwood.
"Now it can be difficult to adjust to the club set up after the professionalism of the county set up. As I've got older I would have had to accept that. I would have come home from club matches just steaming about some lad not putting in the effort that he's capable of putting in, or about a lad turning up late or strolling to the field late. That would never happen with Kildare. You have to realise, as Siobhan has often said this to me, that everybody doesn't take the game as seriously as I do. I was slow to realise that. I know everyone is at different levels of ability but the level you work at should be the same for everyone. It's not and that annoys me. I hate to see anyone selling themselves short. Training is the study and the match is the exam so why would a lad do all the study and not apply himself in the exam?"
Doyle always applied himself and he's one of the greatest players to ever don the white jersey. He doesn't buy in to the notion of natural talent though. Nor did he see football as work. Playing for Kildare was an absolute privilege for him. It was a dream come true.
"If you were to define what a natural footballer is, what is it? Is he able to run fast? Is he able to catch better? Is it balance they're looking for? Is it a little bit of flare? Yes, you can be good at a certain skill. You're ability to catch the ball is one skill but you're ability to win breaking ball is another skill and that's not a glamorous skill and it's not seen as being as good as going to the clouds or kicking a point from 50 yards but it's still a huge skill. To be able to tackle well, to defend, there's so many skills involved that I would say certain people are better naturally at stuff like that, it comes a bit easier but it's hard work. You look at the top players in our game at the moment, the likes of the Gooch, Bernard Brogan and all these boys and not only GAA players, in soccer as well, they all work extremely hard. I remember reading Ronan O'Gara's book and the amount of hours he spent kicking and kicking and kicking. Pat Spillane's book was another one. Whether you like him or not, he was always branded as this natural footballer and to me he epitomised what a footballer was. He worked, worked, worked and worked. I never found it as work. When you're 14 years of age and you're in the field kicking a point and you're lining it up as if it's a county final, no different to a young lad in Brazil pretending he's scoring the winning goal in a World Cup. It wasn't a chore to go out with a bag of balls and kick them, it was nearly therapy to get out on your own and be talking to yourself and try put a bit of pressure on yourself to kick three in a row! I spent hours and hours at it but it wasn't a labour of love," he admitted.
The curtain has come down on Johnny Doyle's inter county career. Silverware was scarce but that didn't take away from the enjoyment of it all. The landscape of Gaelic football has changed quite dramatically since 2000 but the fundamentals are still the same. The local lads from small parishes and villages across the country are still heading out on the field with the dreams of a county on their shoulders. Like Doyle, they give it their all. Mayo's Aidan O'Shea recently stated that pay for play is almost inevitable down the line, in his opinion. Doyle thinks otherwise. He would have welcomed financial reward but he's not bogged down by it. Football was a passion. Nothing more and nothing less.
"I don't think we can sustain pay for play. If someone handed me a cheque for 50 quid at the end of the week I'd take it or if somebody handed me a cheque to €5,000 at the end of the week I'd take it! And anyone that tells you any different is a liar. In saying that if I didn't get as much as a pair of football boots out of it, I'd still play the game because I loved playing."
And Johnny, we loved watching you play it.