Naas man to paddle across the country
29.04. 2014

It sounds like the adventure of a lifetime - a young Naas man set out on Sunday with the aim of paddling from one side of the country to the other along the Grand Canal and the River Shannon.
But instead of boat, a raft or a canoe, Justin Kinahan will be taking a paddle board - essentially a much longer and wider version of a surf board.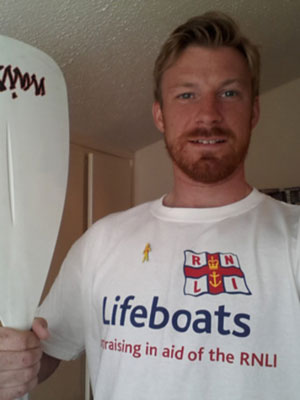 The great adventure started on Sunday when, rather than taking the paddle board, he ran the first 10 kilmetres as far as Cherry Orchard, and took to the water at that stage.
"There are 16 locks in those 10kms, it just wasn't feasible, seeing as you'd be taking the board across busy city streets."
It's 300 kms across the country, and he's aiming, on a good day to do between 30 and 50kms a day. Sections of canal with few locks will provide him with the best opportunities to make good progress.
The board is approximately 14 feet long and 30 inches wide. The user stands on the board, facing the direction they're going, and with a long handled paddle, just glides through the water.
Seeing as he's determined to be self sufficient, Justin will also bring two large 'wet bags' which will hold his tent, sleeping bag and a few other bits and pieces. Everything he's bringing must be light and water proof, he explained.
He root will take him almost home (with his second night being spent in Sallins), and from there he aims to go across through Edenderry, Tullamore, Shannon Harbour.
The possibility of wind on Lough Derg is a concern for him and could delay him.
But once he's past that, it'll be onwards to Limerick and ending on a sandy beach in Ballybunion.
He's also hoping to raise funds for the RNLI, and you can donate to his effort at http://www.mycharity.ie/event/suptosave.