Caroline Ryan shows her class at World Championships
27.02. 2014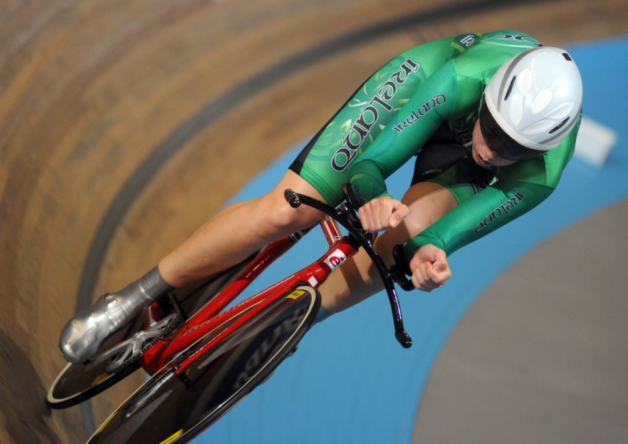 Caroline Ryan emphatically confirmed her position as one of the top cyclists in the world early this morning Irish time when she lead the winning attack in the scratch race in the World Championships in Cali.
She is possibly in the top five, if not better, something that her 14th position in a race does not bear witness to.
A reporter on the scene noted that in the last few hundred metres, "the silver medal disappeared as it was literally about to be hung around her neck".
Ryan was the first Irish rider to race at the UCI World Track Championships this week.
The Kildare woman is number one in the world in a different discipline, the Individual Pursuit.
Initially she rode smartly conserving her energy as much as possible in the 10km or 40 lap race. A trackside report said that she "loitered with intent" in the bunch.
With 15 laps to go she instigated the winning move with Belgian Kelly Druyts, and a massive surge of power from the Johnstownbridge Garda brought the pair well clear of the rest of the pack which included several multiple Olympic Gold medalists and World Champions.
However, it was the Belgian who profited from Ryan's massive effort. In the last few laps she pulled slightly ahead of the Kildare woman and was never seen again, collecting the gold medal on the line.
Caroline Ryan held on for as long as she could, but with 250 metres left, the rest of the bunch, who had spent four laps trying to catch her, finally swept past her.
As she came across the line she was empty and no doubt disappointed.
However, minutes later she was on Twitter with her usual bright and happy self: "Thanks so much for all the support. Gave it everything I had but it wasn't enough tonite. Well done to 2014 Scratch World Champion @Druyts."
She will be in action again at 7pm Irish time on Friday in the Women's 3km Individual Pursuit and at 2am Irish time on Saturday morning in the Women's 25km Points Race.