Kildare horses hold a place in war torn history
27.01. 2012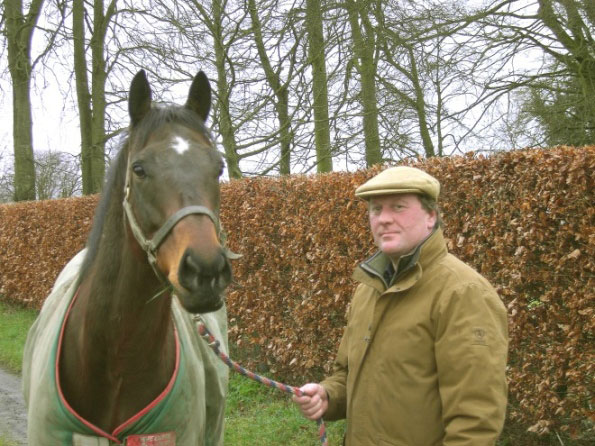 Simon MacDermott is pictured with Caqui D'Or (by Danehill), an ex racehorse who was featured in the RTE TV series Rough Diamond.

Published on Thursday 26 January 2012 16:22

According to a local horse master from Dunlavin - "A hell of a lot of the horses that fought in the war came from Kildare". The story of the war horse is nothing new but it is having a rejuvenation at the moment thanks to Hollywood director Stephen's Spielberg's adaptation of "War Horse" which is currently in cinemas.
Simon MacDermott, who trains horses for movies and TV, spoke to the Leinster Leader about the historic legacy of the Kildare horse during the first world war.
"These horses would have come from the Curragh and been sent to France to fight with the British in World War 1," said Simon. "I wasn't involved in War Horse - I wish - but I've been involved in a number of movies and TV series such as RTE's Rough Diamond as a friend of mine is a producer." War Horse, which is based on a children's novel set before and during World War I, by British author Michael Morpurgo, follows the tale of a horse named Joey's heartfelt journey through the battlefield.
"The actual war horse would have been taught to lie down in order to save the troops life during combat - it is not a new trick - they have been doing that since the Napoleonic wars," he added. "War Horse has got people talking again and there is a long history there. Certainly quite a few of the horses did come back and were sold in lots for Guinness and Smithwicks - a number of them went to work for the breweries and some went to the fairs. The horses would have been traumatised and affected by the war just as bad as any soldier who went through it. Either they would have stayed in the army when they got back or went into the public domain. There were several different regiments from the Curragh in World War 1 so certainly it was a big provider of horses for the war."