Charity Christmas Single, 'Christmas Bailout'
08.12. 2011
Kildare TV presenters Jamie Merrins and Ruth Melody record a Charity Christmas Single, 'Christmas Bailout' With All Proceeds going to Spina Bifida and Hydrocephalus Ireland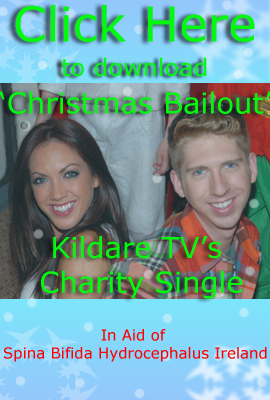 Ruth Melody and Jamie Merrins have written a charity Christmas single titled 'Christmas Bailout' with all of the proceeds going to SBHI. The quirky and upbeat track depicts the economic struggles facing Irish families in the run up to Christmas and takes a light hearted and comedic look at the Irish art of 'getting by' during the festive season.
Each person contributing to the song from the writers, composers, studio engineers, and crew have all donated their time free of charge to make 'Christmas Bailout' a success. Kildare TV presenters Ruth Melody and Jamie Merrins provide the vocals for this upbeat Christmas track.
A host of celebrity faces including Westlife's Nicky Byrne have pledged their support to the single.
The song is available for download NOW directly from the Kildare TV website on www.kildare.tv and from Itunes for only 99c. All proceeds go to Spina Bifida and Hydrocephalus Ireland
Watch the official music video for Christmas Bailout here →