Golf ace Rory donates more than 600k to to two Kildare charities
16.08. 2016
Two Co Kildare charities will share almost €1m donated by golfer Rory McIlroy following the Dubai Duty Free Irish Open at the K Club.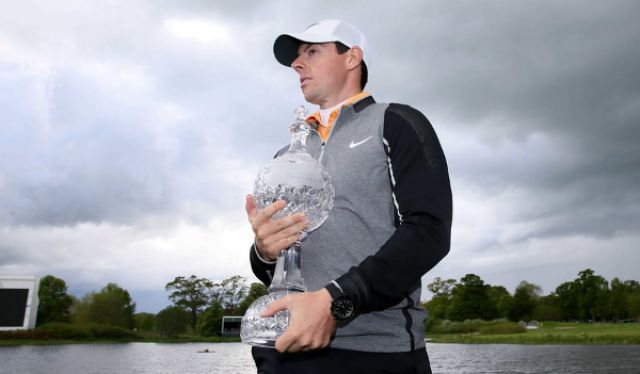 McIlroy's charity, The Rory Foundation raised a total of €951,000 for Barretstown and Jack & Jill Foundation. Dublin-based LauraLynn Children's Hospice also benefitted.
Each charity will receive €317,000 to go towards specific projects.
Barretstown said it will direct their funding towards a new dining hall at their Naas campus.
The Jack and Jill Foundation's donation will go towards more than 19,800 hours of home nursing care and LauraLynn Children's Hospice will have enough money to provide two Clinical Nurse Specialist Salaries, auxiliary expenses and administration for over two years.
McIlroy said: "While winning the Irish Open this year meant a lot to me, being able to give my prize money to three local children's charities made it all feel much more special.
"I can think of no charities as worthy or deserving of support than Barretstown, the Jack & Jill Foundation and LauraLynn Children's Hospice.
"I'm so proud of how much my Foundation raised and I'm already looking forward to new projects in 2017."
CEO of Barretstown Dee Ahearne said: "Barretstown is absolutely thrilled with the amazing amount being donated by the Rory Foundation from the Irish Open. On behalf of those children and their families, we would like to say a huge Barretstown 'Thank You' to Rory and all the team in the Foundation whose hard work behind the scenes made the Irish Open and the other events surrounding it such a success.
"The impact this funding will have on the lives of the children with serious illness we serve will be huge. We will be directing the funding towards Barretstown's new dining hall which is the single largest new project on site since we opened over 20 years ago. Our Dining Hall is the heart of camp and serves over 2,500 campers annually."
CEO of the Jack & Jill Foundation Jonathan Irwin said;
"This €317,000 donation from the Rory Foundation is literally a gift of time to the families under our wing, with every cent being spent directly on the 280 families under our wing and funding 19,813 hours of home nursing care at €16 per hour. Typically Jack & Jill funds up to 64 hours of home nursing care per month at a cost of up to €1,024 per family, so this money will make a big difference. To put it into context nationally and locally, that's over 70 hours for each family under our wing today and the Rory Foundation donation will support the child and family with home nursing care and respite, county by county. What this golf and charity champion has gifted to families is time to do the 'normal' things that others take for granted - I should know as I've walked this pathway - like a full night's sleep or a day out with the healthy siblings, safe in the knowledge that their sick child is being well cared for at home by one of our nurses. Furthermore, in choosing Jack & Jill, Rory has extended a hand of friendship to our families which gives them a real boost knowing that a golf and charity champion like this is on their side. The money and awareness he has raised for Jack & Jill is breathtaking and I want to thank everyone behind the Rory Foundation, especially Barry Funston."
CEO of LauraLynn Children's Hospice Sharon Morrow said; "
"We are so grateful to be a beneficiary of the Rory Foundation, Irish Open initiative and for the awareness it has enabled us raise about the services we provide to children with life-limiting conditions and their families. The €317,000 donation we are receiving is beyond generous. It will go towards the development of the LauraLynn@HOME programme, offering hands-on clinical care to children and their families in the home. We plan to develop a new symptom management team, spearheaded by 2 clinical nurse specialists, which will offer choice to families who wish to avail of symptom management care in their home. From the Board and team at LauraLynn, as well as the children and their families, we would like to wish our sincerest thanks to Rory and the Rory Foundation team, as well as all those who donated during the Irish Open."
Tickets for the Dubai Duty Free Irish Open 2017 are on sale now from www.dubaidutyfreeirishopen.com. The event will take place at Portstewart Golf Club from the 6th to the 9th of July and a percentage of ticket sales will go to the Rory Foundation.
source: KildareNow.com