Naas 10k run was a personal triumph for Peter
07.10. 2014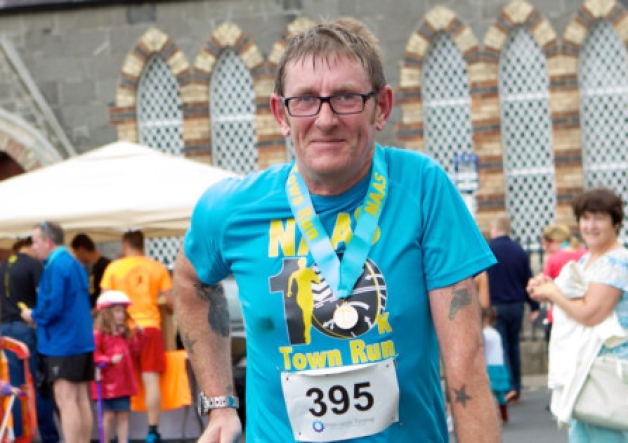 Peter Earley, Naas at the finish of the Naas 10k, Town Run, Sunday morning, September 28. Photo Tony Keane.
Naas man Peter Earley participated in the inaugural Naas 10k run 20 years to the day after a traffic accident left him seriously injured.
Forty-six-year-old Peter, a former member of the Defence Forces, finished the circuit in a time of 65 minutes on Sunday afternoon (September 28).
"I'm still a little bit sore, but I ran every step of it and I didn't stop once," Peter reflected this week.
Peter lost a leg and suffered significant injuries which left an arm effectively paralysed when he crashed his motorcycle into a car in 1994.
At the time, Peter was a marathon runner as well as a member of a mountain rescue team and participated in many military athletics events, including the Defence Forces equivalent of today's triathlons.
"I run on a prosthetic limb and they are much more functional today than when I was injured," Peter explained.
"This means that I was able to train for the event and run in it.
"This was a personal mission for me and I'm glad I completed it – and if it provides some inspiration for even one person then it's all the more worthwhile," he told the Leader.
He prepared for the event by running up to four days a week and walking on the other three, taking a route from his Craddockstown Rise home in Naas.
Peter's grandfather Gus Fitzpatrick was a member of the last Kildare team to win the All-Ireland football title in 1928.
The fastest finisher was David Fitzpatrick of Tallaght with a time of 35 minutes and 19 seconds.
source: LeinsterLeader.ie