Nearly 800 turn out for Jog for Jockeys races at the Curragh
04.09. 2014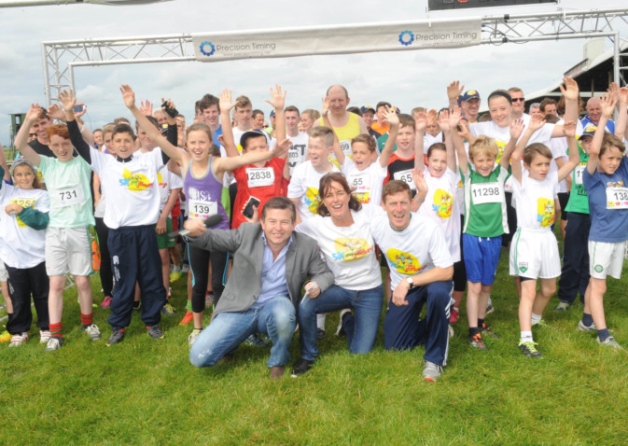 All set for the start of the 5k Jog for Jockeys Race at the Curragh. Photo: Jimmy Fullam
Almost 800 people took part in the fourth annual Jog For Jockeys charity fundraiser on Sunday August 24 at the Curragh Racecourse raising €24,661.80 – the highest amount raised since the first annual fundraiser in 2010.
All monies raised will be donated to the Irish Injured Jockeys Fund.
Former jockey Stephen Hunter was first across the line in the 10km race with an impressive time of 34:48. James Tyrell won the 5km race in 18:02.
Brian Hayes, was the first jockey home in the 5km race, coming fourth overall while John Cullen took the honours among the jockeys in the 10km race, coming in 32nd place.
Trainer Johnny Levins entered a team 'PetVetJohnnyLevins' winner of the 5km Team prize.
Also among the runners were Jockeys Emmet McNamara, Adrian Heskin, Niall McCullough, Sean McDermott, Patrick Mullins, Shane Foley, Fran Berry, Andrew McNamara, Sean Corby, Michael Hussey, Conor Hoban, Ben D'Alton, Jamie Codd, Sonny Carey and Patrick Mangan as well as Trainers Johnny Murtagh and Paul Deegan.
Dr Adrian McGoldrick, Turf Club Senior Medical Officer, along with his family, took part in the 5km race. Conor Kelly, son of Curragh Training Grounds Manager, Pat Kelly won the Children's 5km in a time of 22.31, with Philip McCartan, (22.42) in 2nd place.
Event Organiser, Audrey O'Dwyer, said: "Jog for Jockeys 2014 was a huge success raising close to €25,000, which is the highest we have raised yet. It was great to see the number of runners increasing and we were especially delighted with the huge amount of children who took part. Aspecial mention must go to all the volunteers who made the event possible."