300 already working for Kerry Group in Naas
24.10. 2013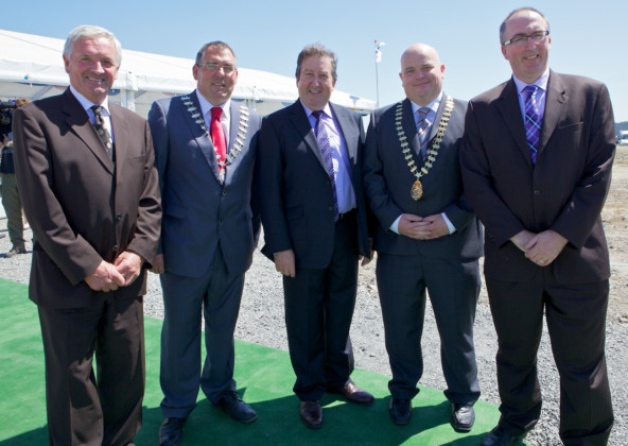 Denis Buckley, Chairman, Kerry Group; Deputy Mayor of Naas, Ger Dunne; Kildare County Manager, Michael Malone; Kildare Mayor, Mark Wall; and Gerry Behan, President and CEO Kerry Ingredients and Flavours. Photo Tony Keane.
by Paul O'Meara

Some 300 people are employed at the Kerry Group's fledgling operation at Millennium Park, Naas.
This will grow to 330 by next January and construction work at the multi million euro technology and innovation centre, which will undertake research into food and food ingredients is ongoing.
Already a group of Japanese of business people visited the Kerry offices in Naas and more customers are expected as time passes, generating income for local businesses notably restaurants, hotels and taxi operators.
Research and development is important to the company, which employs 24,000 people across the globe, so much so that KG spent €180m on R&D in 2012 - although State grants are available for this work.
"We invest significantly in research and development and have through the life of the company. We have started to bring global customers to Naas and we are working out of three buildings in Millennium Park," KG senior executive Oliver Kelly said today.
Naas was chosen for as the location for the €100m Global Technology and Innovation Centre, as it's known, because of good transports links, growth potential, infrastructure, customer convenience and proximity to Dublin, Mr. Kelly told North Kildare Chamber's annual conference.
He also said that Millennium Park was a huge attraction and is relatively close to Dublin Airport.
A planned new motorway interchange will allow better access from the Naas by-pass into Millennium Park.
By 2106, it is planned to have 900 people working in Kerry's enterprise in Naas in including administration, information systems, R&D and communications housed in 4 buildings.
Mr. Kelly also said there has been a lot of interest in securing employment in Naas among highly qualified Irish people working abroad.