Kildare take home seven at the All-Ireland Community Games
30.05. 2013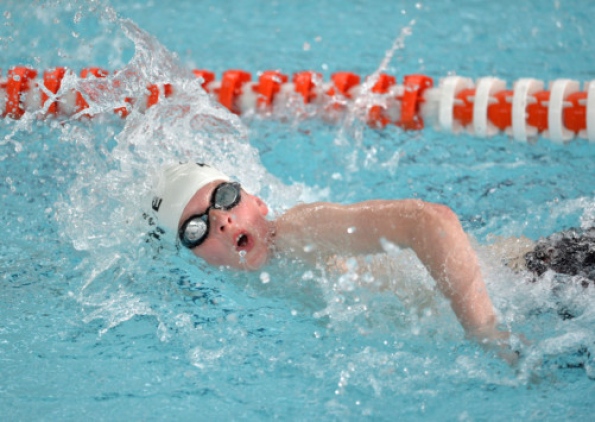 Matthew Walsh Hussey, Clane/Rathcoffey, competing for Kildare in the boys under 10 freestyle swimming at the HSE National Community Games finals at Athlone Institute of Technology.Picture: Adrian Melia

Published on 29/05/2013 17:40
Kildare once again plundered the National Community Games medal chest taking home seven All-Ireland titles and an overall haul of ninety-nine medals at the 2013 National Community Games May Festival in AIT Athlone.
The Festival kicked off last weekend in Athlone Institute of Technology with a full program of events for children aged 6 to 15 years.
County Kildare was well represented with 199 children in action from the twenty-one areas, taking part in over thirty events of which half went home with a medal.
Kildare won gold in indoor soccer, choir, group singing, cross country, gymnastics, model making and handball while silver medals went to Kildare in swimming, gymnastics, project, handwriting, cross country and dancing. The county took bronze in gymnastics, talent, pitch and putt, swimming and judo along with fourth place in pitch and putt, gymnastics, swimming and model making.
The Kildare's cross country teams put in outstanding performances to win gold in the U.14 boys mixed distance relay. An outstanding 800 metre third leg by Mark Glynn set Kildare up for an historic win. The U.12 and U.14 girls teams both put in great performances to win silver. The medal winners were: boys U.14 mixed distance relay Mark Glynn (St Conleths), Daniel Reilly (Clane), Eoin O'Connor (Kildare Town), Cian Prendergast (Suncroft), Ronan Downey (Twomilehouse). Girls U.12 mixed distance relay Hazel McLoughlin (Eadestown), Molly Aspell (Kilcullen), Faye Dervan (Eadestown), Mary Enright (Suncroft), Leah Doran (Balyna), Leah Quinn (Balyna). Girls U.14 mixed distance relay Aimee McGrath (St Conleths), Grace Dervan (Eadestown), Lucy McCann (Clane), Sarah Stewart (Naas), Eaibhin Grimes (Confey) and Lara Curren (Milltown).
Tadgh Murtagh (Kildare Town) won gold in U.15 gymnastics. Gold also went to Cathal Hyland (Newbridge St Brigid's) in the U.13 event. Kildare's gymnasts also took silver through Patrick McGrath (St Conleth's) in U9 Boys and Eadaoin Murtagh (Kildare Town) in U.11 Girls. Eadaoin's cousin Aislinn Murtagh took fourth in the U9 event.
Newbridge St Brigid's took gold in indoor soccer through Daniel Madaghjian, Cian McHugh, Jamie Lyons, Cian Butler, David Higgins, Oisin Sherlock, Dane Hegarty and Alan Sourke.
Leixlip girls took another gold for Kildare in one wall handball with the team of Leah Doyle, Ciara Harrington, Molly Dagg, Leah Smyth, Emma Browne and Hannah Slyvester.
Liam Donlan from won gold in the U10 model making while his sister Ceola got fourth in the U12 girls event. Patrick Donoghue, (Carbury) took bronze in the U14 model making. In the art event silver went to both Leon Cullen (Kilcullen) and Tommy Smyth (St Brigids) in U12 and U16.
Kildare won its first U.16 choir gold with the choir from St Brigid's. St Conleth's won the group singing talent event with an outstanding performance. St Brigid's: Melanie Ronayne, Doireann O'Donovan, Kathleen Reddy, Amy Kinsella, Kellie Tyrell, Kirsten Dignam, Emma Begley, Aoife Byrne, Sophie Donoghue, Kym Kearney, Louise Whyte, Niamh Carey, Katie Collins, Holly Hughes, Ciara Egan, Valerie McCrory, Holly Gannon, Caoimhe Cummins and Grace O'Brien. St Conleth's: Sean Conlan, Jodie Fleming, Jade Hogan, Ciara Taheny, Jack Monaghan and Elliot Nolan.
The Kill team chose the micro chip as their subject for the theme 'Greatest Invention Ever' in the U11 project. The team of Ceola Donlanm, Lorna Stenson, Jaime Diez-Daly and Liam O'Carroll impressed the judge to win Silver.
At the swimming finals Kildare won silver in boys U.10 freestyle and U.13 girls squad, bronze in boys U.12 freestyle and fourth in girls U,8 freestyle. There was also a gold and silver in the U.10 B competition.
The Kildare swimming medal winners were: silver: Matthew Walsh Hussey (Clane) freestyle U.10. Gretta Martisauskaite, Millie Case, Hannah Rasmussen, Leah Delaney and Naoise McBride (St Brigid's) U.13 squad. Bronze: Matthew Gardiner (St. Conleth's) freestyle U.12. Fourth: Alison Mahon (Twomilehouse) freestyle U.8. Bronagh Kennedy (Clane) won a gold in the U.10 backstroke 'B' final and Amelia Philips (Maynooth East) won silver in the U.10 freestyle 'B'.
St. Brigid's (Leah Boland, Grace McDermott, Kate O'Toole, Rebecca Donoghue, Shauna Walsh) won silver in the U.14 group dance while Elliot Nolan (St. Conleth's) added a bronze from solo singing.
Newbridge St Brigid's boys took fourth in pitch and Kill girls took bronze. Kill (Lauren Walsh, Clodagh Walsh, Nicole O'Hagan, Cliona Lenehan and Laoise Lenehan). St Brigid's (Lee Burrell, Ryan Brady, Ross O'Toole. Conor Kavanagh and Calum Sourke).
Piotr Chodup (St Conleths) impressed the judges to win Silver in U10 Handwriting. Confey's Edgaras Kucinskas won bronze in the 30kg judo.