Naas business woman wins national award
11.10. 2012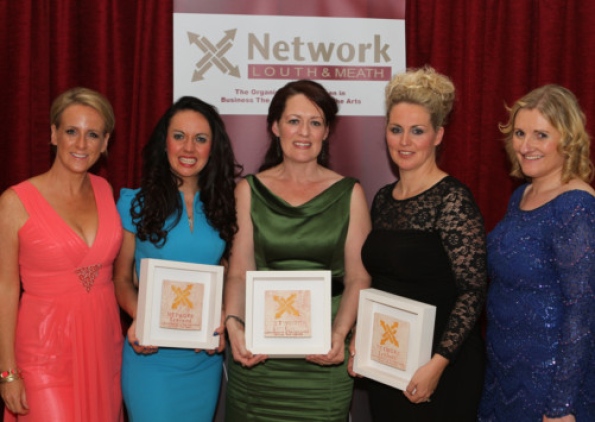 From left: TV3 presenter Sybil Mulcahy, Edel Mc Cabe Marketing & PR Manger from Naas Racecourse, Aileen Roger from Ready Girls, Natasha Lynch from Essential French and Louisa Maher, Network Ireland President


Published on Wednesday 10 October 2012 10:46
Women's business organisation Network Ireland has named Edel McCabe, Marketing and PR Manager for Naas Racecourse, the Employed Businesswoman of the Year for 2012.
She was presented with the award at an event held in the d Hotel, Drogheda on Friday 28 September, hosted by TV3 presenter Sybil Mulcahy.
Ms McCabe said the award was "great recognition" for the racecourse as well as for herself and that it came as a shock when she was announced as the winner.
"It took me a few minutes to realise," she told the Leader. "I was looking around the room to see who won."
Originally from Buncrana, Donegal, Ms McCabe said she was celebrating "two All-Irelands" in the space of a week, with the Donegal footballers having taken the Sam Maguire five days earlier. It was the first time she had been nominated for the award.
"Network Ireland Kildare put me forward and then there was a series of interviews." In those interviews, she was asked questions about her role at the racecourse such as the effects of the recession and how she has responded to it.
Before taking on the role at Naas Racecourse eight years ago, Ms McCabe worked with Aer Lingus in Boston, as part of the flight control team.
She was working in Logan International Airport at the time of the September 11 attacks, the airport from which the two planes that crashed into the Twin Towers took off. While a terrifying experience for airport staff and passengers alike, it was also one that has helped to shape her business personality.
"It was very educational. I learned a lot having to deal with passengers whose flights were delayed or cancelled."
It is that ability to cope with any situation that has helped Ms McCabe to claim the award.