Naas Native Becomes Liza Minnelli in Hit Show
02.05. 2011
Last February, local Naas girl, Sharon Sexton, donned her producer hat, along with her fiancé Cillian O' Donnachadha, as they put their wedding fund on the line in order to stage what has undoubtedly been their most challenging production to date.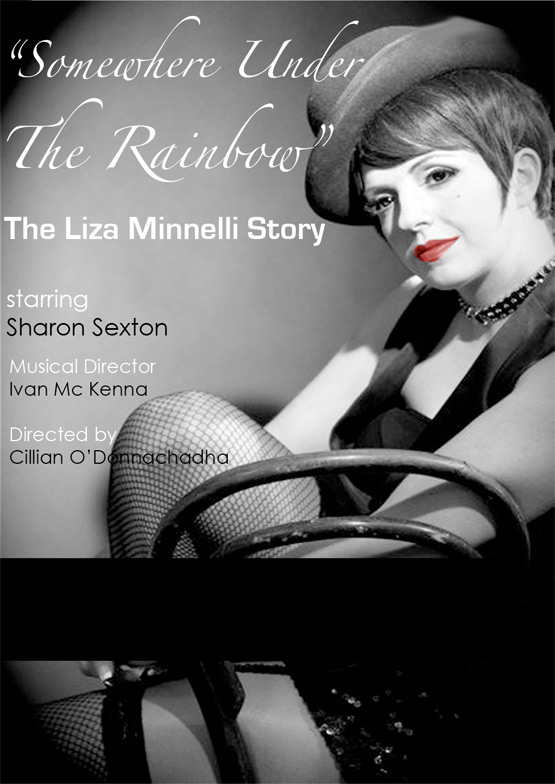 Somewhere Under The Rainbow – The Liza Minnelli Story has been a work in progress for the past 2 years, devised, written and produced by the couple. Telling the tales of Liza's colourful life, interspersed with well recognised songs from Liza's song book, this musical won the hearts of many musical theatre fans during its last outing as part of The International Dublin Gay Theatre Festival last summer, where Sharon picked up the Eva-Gore Booth award for Best Female Performer, for her portrayal of Liza.
When approached by management of Dublin's Olympia Theatre and offered the opportunity to stage the show in the prestigious venue, the couple jumped at the chance, funding the whole production themselves. "In this day and age, money for the arts is extremely scarce. Producers don't want to take a risk with their money, but we had absolute confidence in the piece and so we took the gamble".
And the gamble paid off. After what could only be described as a magical evening of entertainment, the performance was greeted by an amazing audience reception, with the Olympia Theatre packed out to the rafters (literally!)
Producer, Donal Sheils was in the audience that night and is now staging the first national tour of Somewhere Under The Rainbow this summer. "We are delighted that we can take this show on the road", says Sharon, "Liza is such an icon and has had the most astonishing and colourful life, both professionally and personally. It really is a pleasure to tell her story. And it's such an uplifting and emotional show; I don't think I'll ever get tired of performing it".
Having trained as a youngster with Mona Conroy, Brian Brady and Naas Musical Society, singing and performing were always Sharon's passion. An ex-pupil of St. Mary's Colllege, Sharon performed the title role in the school's 5th year musical production, Calamity Jane. Upon leaving school, she went on to train in Drama and music at Dublin Institute of Technology and has been working professionally in the entertainment industry since.
So what is the show about, what is life like living somewhere under the rainbow? Beneath the surface of sequins, feathers and razzle dazzle that is so often associated with Miss Liza Minnelli, lies a truly captivating character, who has lived one of the toughest, most fascinating and remarkable lives in show business! Sharon presents an outstanding portrait of Liza, 'The Musical Theatre Sensation'.
Join Liza in the intimate setting of her dressing room as she performs pieces from her infamous musical catalogue and shares the secrets, stories and memories that make up a mesmerising career, including the memories of what was undoubtedly the most demanding role she ever played, that of "Judy Garland's Daughter". Featuring the hits "Mein Herr", "Some People", "Cabaret", "Maybe This Time", "New York, New York" and more. If you love Liza, this is one you don't want to miss.
Sharon Sexton is delighted to have the opportunity to perform Somewhere Under The Rainbow – The Liza Minnelli Story closer to home this time with the show playing at Riverbank Arts Centre, Newbridge on Saturday 21st May. Tickets are currently on sale at Riverbank Box Office on 045 448327 or www.riverbank.ie
WHAT THE CRITICS SAID....
"Electrifying!"
"Sharon Sexton's uncanny resemblance to a young Liza is striking. But her capacity to get under the skin of her icon is her real skill. ...I am almost certain I saw the 'real thing'".
Video
Sharon Sexton - Maybe This Time Monologue